A New Kabuki Production of 'NARUTO'

is coming to
the Shinbashi Enbujo Theatre this summer!!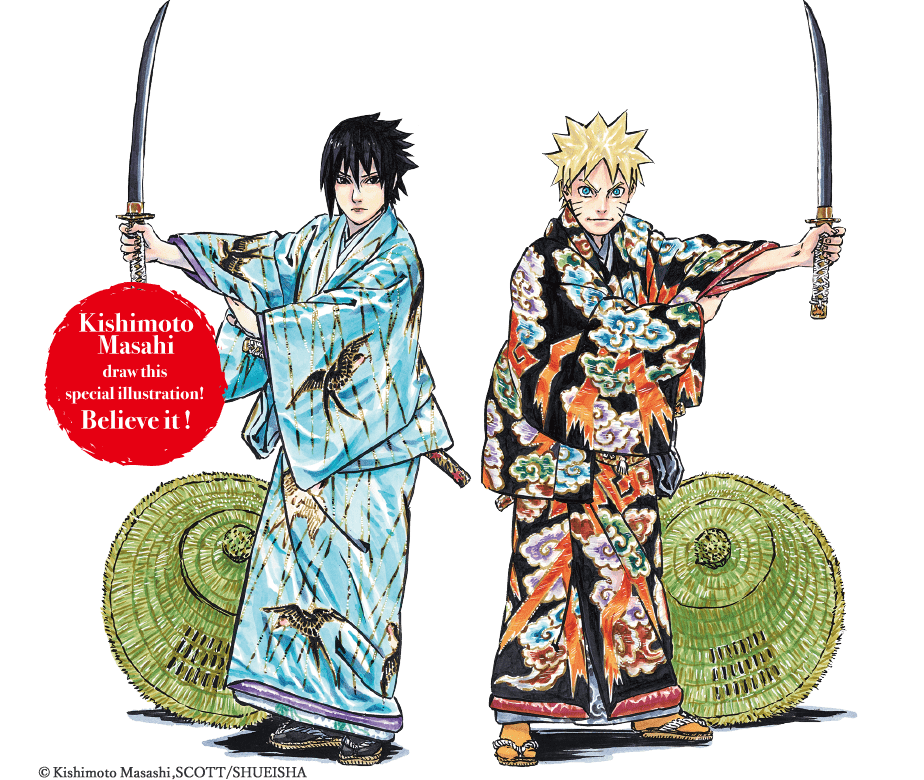 'NARUTO' is a 'battle action' story which describes the growth of the adolescent Ninja, Naruto Uzumaki. Known as one of Japan's best manga series, it is loved by people both at home in Japan and abroad. The number of copies printed in Japan has reached over 140 million, with 95 million copies printed overseas. The series is now available in over 40 countries.
 The kabuki adaptation of 'NARUTO' is not only a 'battle action' story, but also one about the friendship between Naruto and Sasuke Uchiha, Naruto's rival. It also focuses on the deep love of Naruto's parents for their son, something with which we can all empathize and find moving.
Making use of kabuki's unique staging practices, this play will break new ground as innovative kabuki for the modern age.
 The young kabuki stars Bandō Minosuke and Nakamura Hayato will play the roles of Naruto Uzumaki and Sasuke Uchiha. Not only have they mastered traditional styles of kabuki, they have also been active in new kabuki productions such as Super Kabuki II 'One Piece'. These two actors are now becoming increasingly popular among theatre fans. Alongside this pair, Ichikawa Ennosuke and Kataoka Ainosuke will perform alternately the role of Madara Uchiha, the powerful earth-shaking enemy who stands in their way.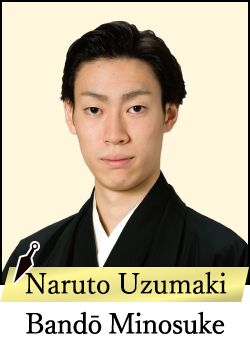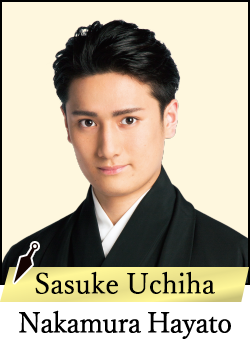 G2, who has brilliantly realized numerous full-length productions in the past, will direct and write the scenario of 'NARUTO'. Music will be provided by the 'WAGAKKI BAND', a band which uniquely fuses traditional Japanese musical instruments with rock. Please look forward to this new and unexpected combination created by the world of 'NARUTO'!
Story
 Once upon a time, a monstrous fox demon called Nine-Tails controlled by a mysterious masked man visited the Land of Fire and created chaos and disaster. In the Land of Fire, there was a village of Ninjas called Konohagakure Village. In an attempt to save the land, the chief of the village, the 'Fourth Hokage', sacrificed his own life to seal Nine-Tails into the stomach of his newborn son, Naruto Uzumaki (Bandō Minosuke).
Naruto attends the Ninja Academy with the aim of becoming a mature Ninja, but instead he proves a problem child. He has been lonely throughout his life due to the hatred everyone feels towards him for having Nine-Tails sealed within him. After graduating the Ninja Academy, together with Sasuke Uchiha (Nakamura Hayato) and Sakura Haruno (Nakamura Umemaru), he joins the team commanded by Kakashi Hatake (Kashima Noritoshi) and works as a Ninja of Konohagakure Village.
 Naruto works hard to be accepted by the villagers, but at the same time he feels a sense of rivalry with Sasuke who is always ahead of him. Yet, somehow, he also has sympathy with the shadow Sasuke casts over him and feels a bond of friendship.
 On the other hand, Sasuke himself has a dark past. When he was just a child, his elder brother Itachi Uchiha (Ichinose Hidekazu) killed the whole Uchiha clan including his own parents. Since that time, Sasuke has built an emotional barrier between himself and others and has trained to become stronger than anyone else with the sole intention of killing his brother who had escaped the village.
 Naruto and Sasuke face many challenges but soon meet Jiraiya (Ichikawa En'ya), who will become Naruto's master, and Tsunade (Ichikawa Emiya), who will become the Fifth Hokage. He also has a fight with Orochimaru (Ichikawa Emisaburō), a fugitive Ninja who tries to destroy Konohagakure Village. Eventually, Naruto's battle against his powerful earth-shaking enemy Madara Uchiha (Ichikawa Ennosuke, Kataoka Ainosuke) begins.